Reports and Records:
Annual Reports:
The Annual Report Collection contains the yearly reports from the C&O Railway to its stockholders and the yearly reports of some of the predecessor corporations that were merged into the C&O. A supplemental guide to the Annual Report Collection is contained within the Guide to the Corporate Record Collection of the Chesapeake and Ohio Railway Company.
The collection consists of both loose copies and bound volumes. Most of the bound volumes are for C&O, HV, F&PM, PM and CHV&T. The bindings are generally in bad condition. Most of the loose copies are for C&O, PM and HV post-1900.
The Annual Report Collection contains reports from some of the C&O's major predecessors including:
Virginia Central (1850-1867)
Newport News & Mississippi Valley Company (1886-1890)
James River & Kanawha Company (canal) (1841-1854)
Buchanan & Clifton Forge (1877-1878)
Richmond & Alleghany (1881-1888)
Elizabethtown, Lexington & Big Sandy (1884-1890)
Flint & Pere Marquette (1867-1898)
Pere Marquette (1900-1946)
Chicago & West Michigan (1880-1898)
Chicago & Michigan Lake Shore (1873-1877)
Detroit Lansing & Lake Michigan (1874)
Detroit, Grand Rapids & Western (1897-1898)
Hocking Valley (1899-1929)
Columbus & Toledo (1877-1880)
Columbus, Hocking Valley & Toledo (1881-1897)
Columbus & Hocking Valley (1871-1880)
Annual Reports are published reports issued by corporations to their stockholders that generally detail the operations of the company over a one-year period. Railroad annual reports include financial statistics, details on debt, and tables that show the types and quantities of commodities hauled, classified by type, such as: products of mines, products of farms, steel, general merchandise, the number of passengers carried, as well as data that details averages such as tons of freight carried one mile (ton-miles) and passengers carried one mile (passenger miles), which gives an indication of average distances hauled. There is usually a table that shows the mileage of track, which is sometimes classified into branch and main lines. Depictions are usually made showing trackage added or abandoned during the year. Other physical plant improvements are sometimes given, such as: facilities constructed and their cost and facilities retired. A section of general comments usually reviews the line's operations highlighting improvements or problems in transportation, construction, renovation and new construction, major building projects authorized or completed, and similar statements about the business of the company over the previous year.
Earlier reports often list locomotives and cars by wheel arrangement or type as well as additions and retirements of rolling stock through the year. (Only quantities are given, road numbers are never given.) Freight and passenger cars are usually listed by type with the total number owned and changes from the previous report noted. Almost all of the reports have a detailed map tipped into the front or back of the report. Earlier reports sometimes have a general profile of the line showing gradients and other data. C&O reports have a fancy but very delicate map in the earlier period and beginning about 1910 have a large and very accurate and detailed map that can be folded out. Reports do not have illustrations until 1942. Thereafter, the statistical tables are downplayed with gradually more and more graphic design work showing photos of railway operations, employees, and facilities. Statistics are often presented as graphs of the line, bar, circle, and pictograph styles. Color begins to appear on report covers in about 1945, and by the 1950's, color is used inside as well. By the beginning of the C&O/B&O era (post-1963), reports sometimes were issued in two volumes, one that had the usual graphics and depictions of operations, and a second that was statistical tables. During the late C&O/B&O era, into the Chessie System era, and into the very early years of CSX, flash reports were issued before the larger, full publication was available. Small pamphlet style quarterly reports were issued as well.
Corporate Records: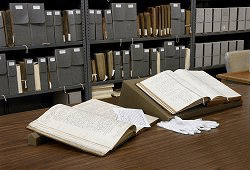 The C&OHS maintains a partial collection of Corporate Records from the C&O Railway and several predecessor companies that were merged into the C&O.
These records consist of the original manuscript minute books for 132 of the companies that were either merged into the C&O Railway, or were subsidiaries of that company, as well as some materials from the C&O itself. The minutes from the actual C&O Corporation are copies. The original minute books of the C&O and its lineal predecessors are held by the Corporate Secretary of CSX Transportation, the company into which the C&O was merged in 1985. These records are fully organized, indexed, and have been scanned to microfilm.